Kink Collar Tags - Customisable Adult Dog Tags - Bone Shape Abdl Pup-Play Pet-Play Charm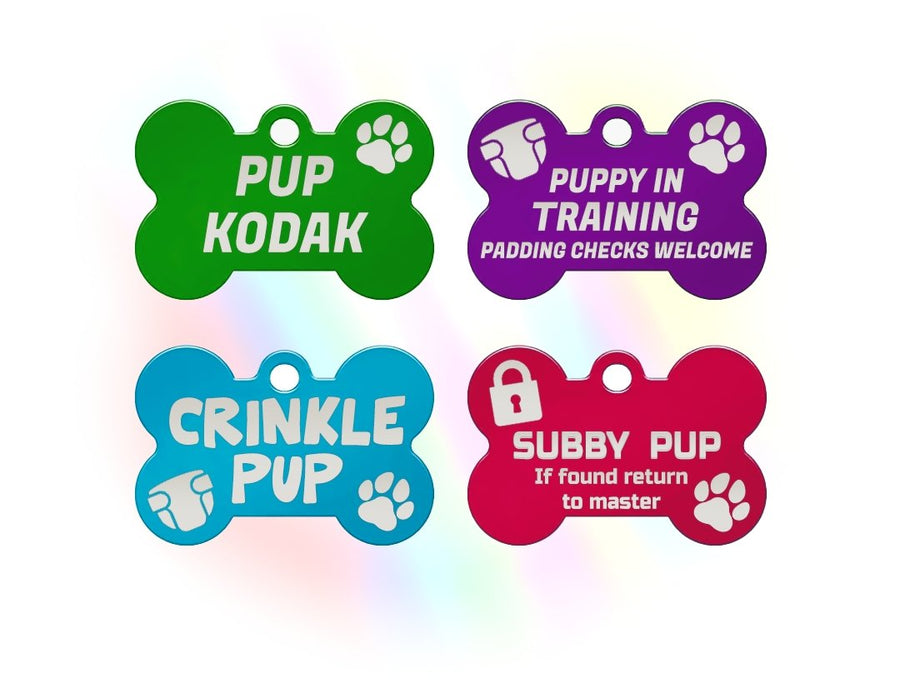 Kink Collar Tags - Customisable Adult Dog Tags - Bone Shape Abdl Pup-Play Pet-Play Charm
Regular price $21.00 Sale

Worldwide Shipping
We ship worldwide

Securely Packaged
To arrive in perfect condition

Discreet Packaging
Full discretion guaranteed

UK Based Store
All items ship from the UK
These are our custom collar tags for adults.
Great for kink play or general wear.
You may add any text alongside optional icons which you may select from our icon grid.
Text and icons will always be a silvery white colour.
Tag Size - 40mm x 25mm
Please do check the product images carefully as they will show you the various choices you can make and help get you the exact tag you're looking for.
We do not normally send a proof before producing your tag and so we ask that you ensure all text and choices are correct before submitting your order.
Includes a small ring for attaching to collars, keyrings or other jewellery.
Arrives cutely packaged, making for the perfect gift.
Tags: ab-dl, Abdl, adult_baby_kink, ageplay, agere, bdsm, bondage, cglb, cglg, collar, ddlb, ddlg, gay_pup, human_pup, human_puppy, kink, little_space, littlespace, mdlb, mdlg, ownership, pet-play, pet-play_gear, pet_play, pup, pup-play, pup_kink, pup_play, pup_play_gear, puppy, puppy-play, puppy_play